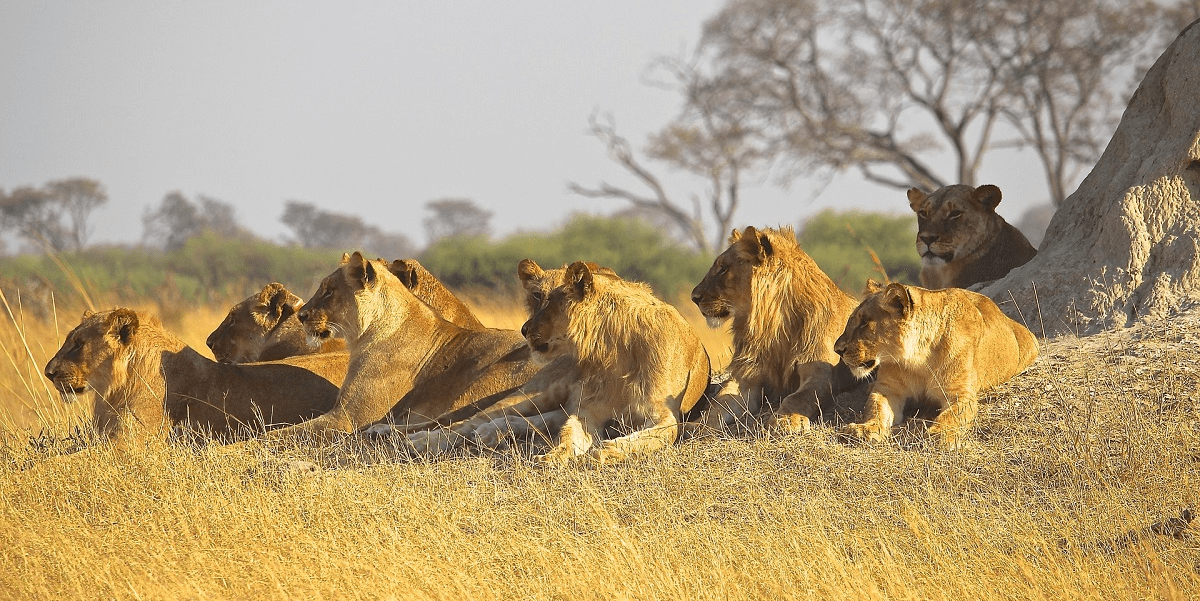 23 Jun

Finally: South Africa's government takes further steps towards lion conservation

Bottle-feeding little lion cubs and taking them for a walk sounds cute and also like a way to do good? But it is not. Rather, it is the beginning of a lion's life marked by abuse and exploitation by humans. Barbara Creecy, the Minister of Forestry, Fisheries and Environment in South Africa, is putting a stop to such practices and thus to the further exploitation of the wild cat. In May 2021 she announced that applications for lion breeding permits will be reviewed much more critically in future. Permits that have already been issued will be reviewed again.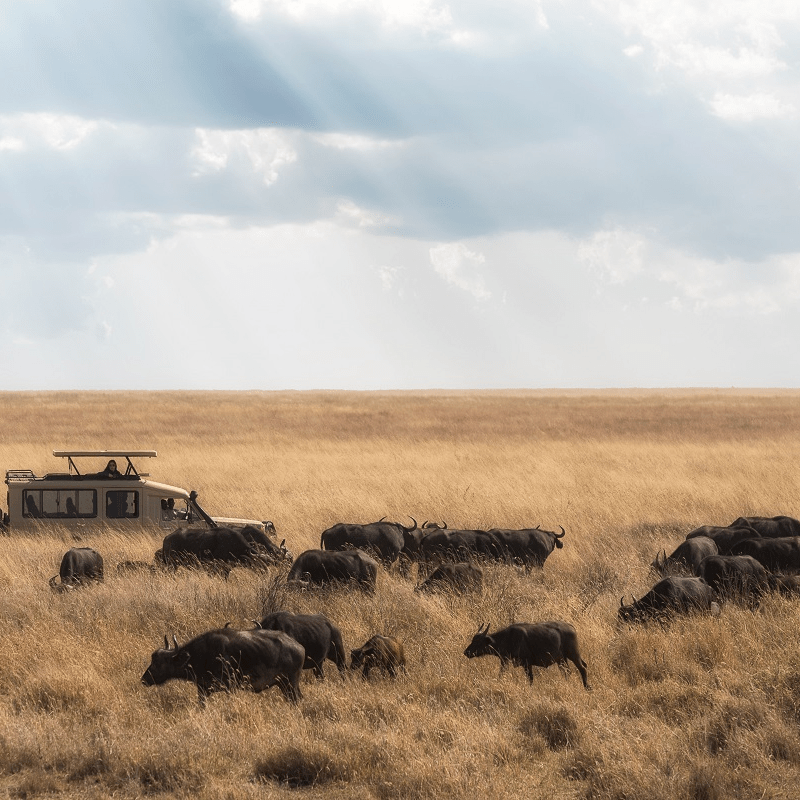 Every year, millions of tourists come to South Africa for a safari to experience South Africa's Big 5 (the rhino, African elephant, buffaloe, leopard and the lion) in their natural habitats. In fact, South Africa offers wonderful opportunities for this with its more than 20 National Parks and over 400 private game reserves. Within the parks, about 3000 lions live in their prides in relative freedom; in the national parks they also hunt their own food. The only human intervention here is to regulate population sizes. In private game reserves, the lions are often given supplementary food, as the game reserves are not large enough for an entire pride to feed on its own. In the wild, the range of a pride of lions covers at least 260 square kilometres.
Almost 3 times as many lions live in captivity, i.e. on breeding farms and other farms and facilities that either offer tourists interactions with lions (lion petting and walks) or invite hunters from all over the world for trophy hunting. The number of captive lions has steadily increased since 1990 – in the late 1990s there were only 50 breeding farms, today the number is over 300. There has also been a corresponding increase in the captive lion population (about 2500 in 2005 and about 9,000 in 2019). Some South African and international animal welfare organisations estimate the number of captive lions and breeding farms to be much higher – they estimate more than 450 breeding farms and 10,000 to 12,000 lions in captivity.
Approx. 75% of South Africa's lions live in captivity. Approx. 25% of South Africa's lions live in National Parks und private game reserves
Some of the breeding farms in South Africa keep the captive lions in near-wild conditions before they are later released into the wild in national parks and game reserves. These breeding farms will be able to continue the work under the new government policy as they make a significant contribution to the conservation of the species and there is no indication that they pose a threat to the welfare of the animals.
Creecy's resolution to critically review lion breeding farms  concerns in particular lion breeding farms that exclusively serve the profit of their operators, keep lions in conditions that are not appropriate to the species and exploit the king of animals as a farm animal.
From Wild animal to profitable farm animal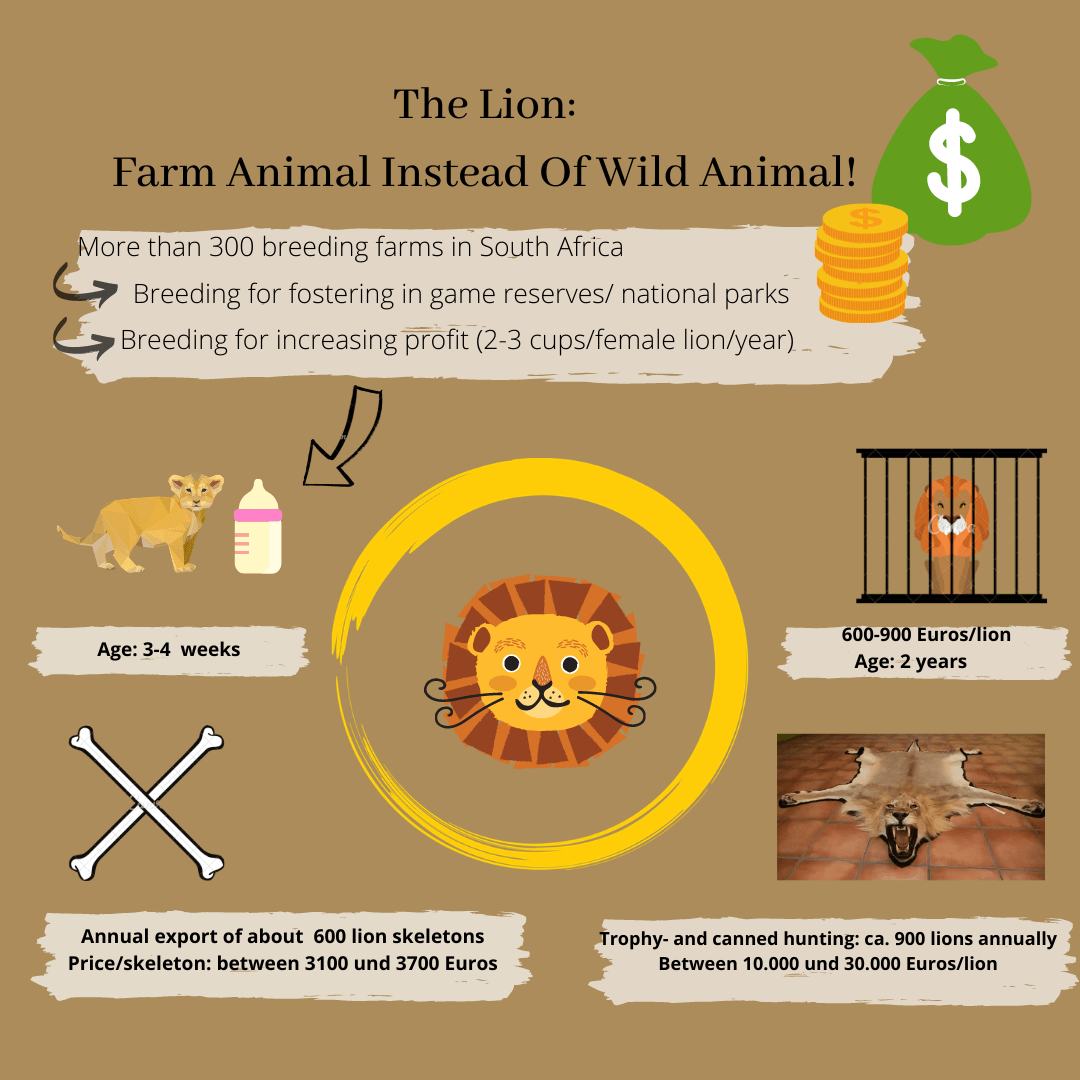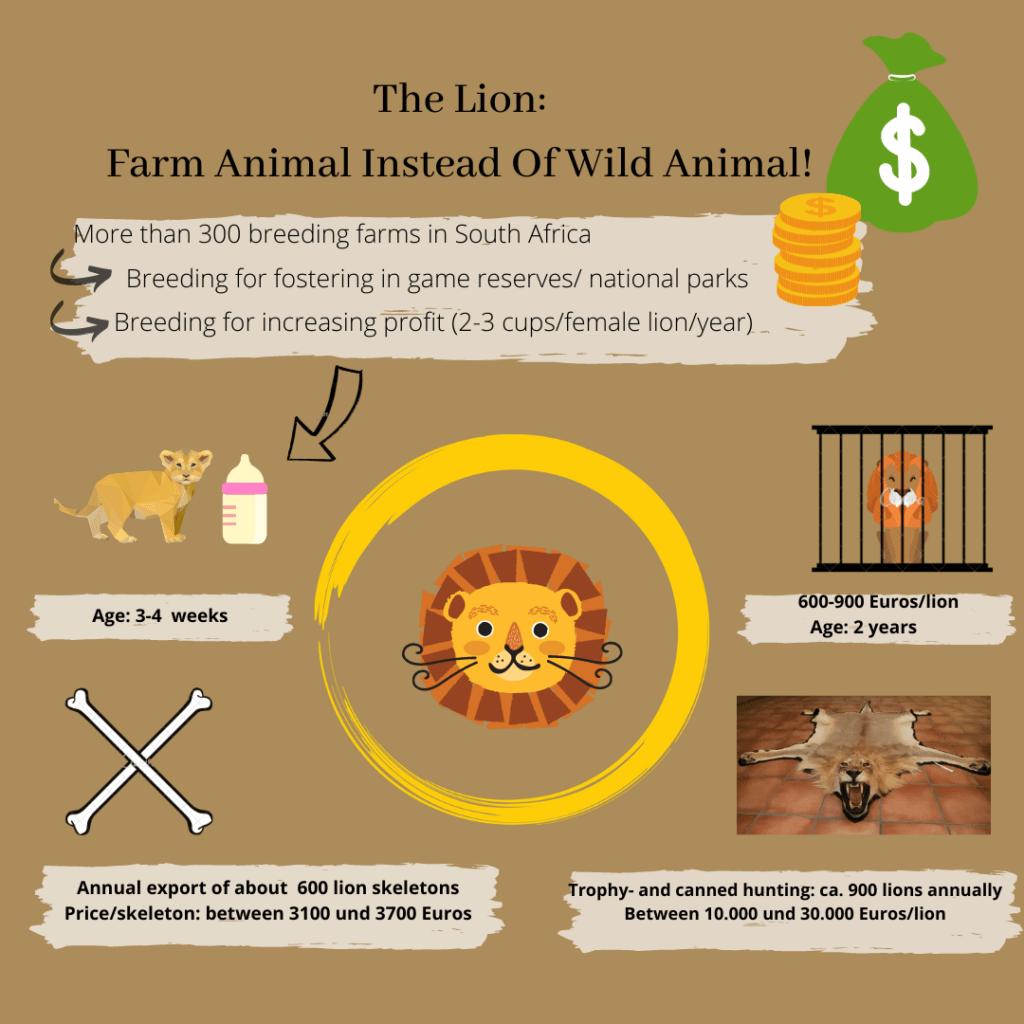 Already as cubs, lions are accustomed to humans and at the same time money is earned with them. Sweet cuddling moments, walks and snapshots with the cubs are advertised to tourists. Tourists see this as an unforgettable holiday memory. However, with the fees they have to pay for the experience they support the further exploitation of the animals.
Adult lions that are no longer small and cute are sold at high prices to the hunting industry and released for trophy hunting. Lions that have been accustomed to humans can be easily shot even by extremely untalented hunters, all the more so as they often have no chance of escaping the hunter in a small hunting area (canned hunting). Trophy hunting costs a fortune: The hunter has to shell out about 50,000 euros for his trophy, making lion hunting an extremely lucrative business. In addition, the lions were previously kept in miserable conditions to save costs at all means – lions receive spoiled food and only inadequate medical care and are usually kept in enclosures that are far too small. The majestic animals, which symbolise strength for many people, are deliberately weakened both to keep costs down and to make it easier for hunters to hunt them.
The lion business does not stop with the death of a lion – lion bones are exported and sold to China and Southeast Asia. There they are highly sought after as they are used as substitutes for tiger bones in traditional medicine. A complete lion skeleton fetches between 3,000 and 3,700 €. The problem with the profitable bone trade is not only that lions are now only bred for the bone trade. It also encourages poaching in South Africa, i.e. the illegal hunting of lions living in National Parks and protected areas, as the price for the bones is higher than the annual salary of a domestic worker or farm labourer.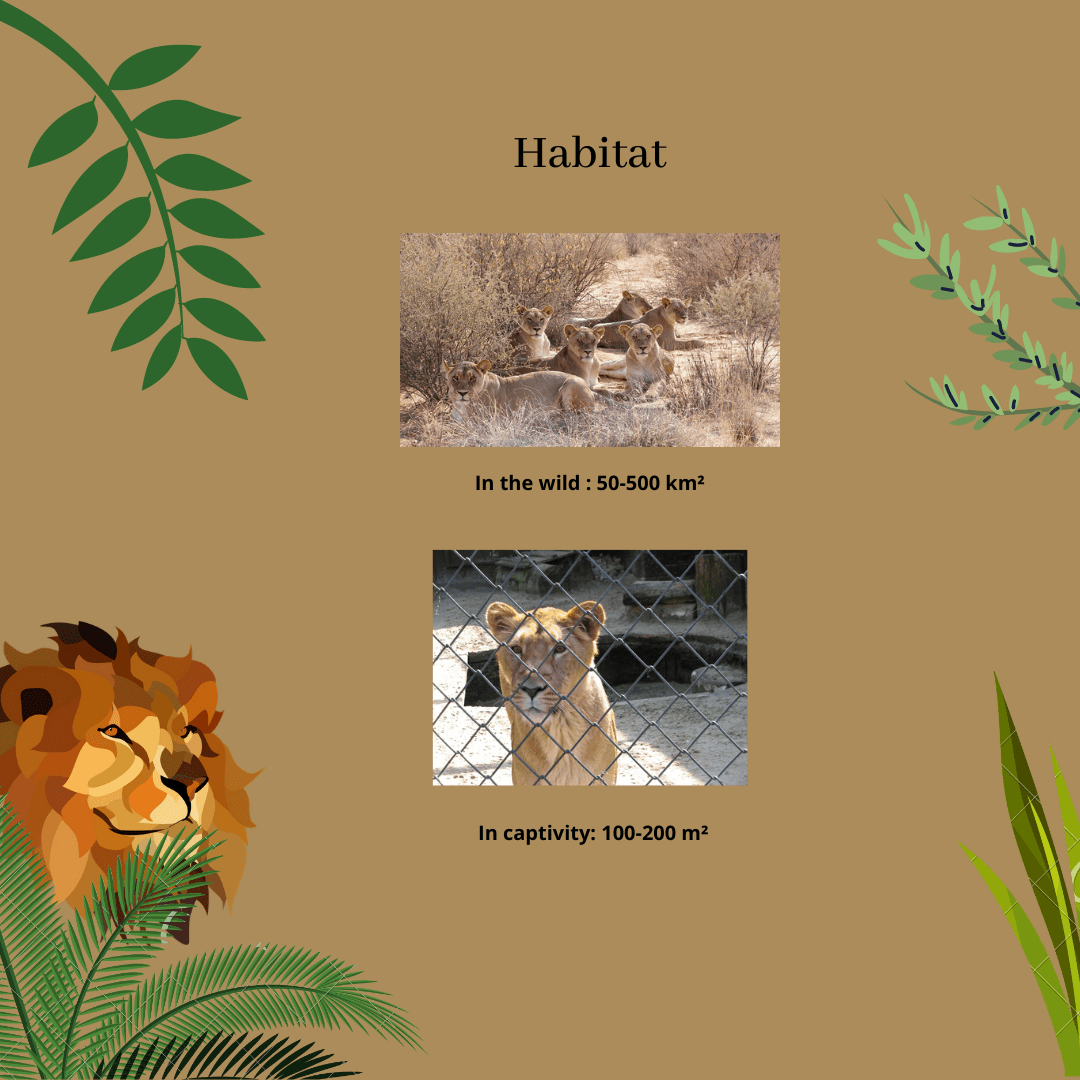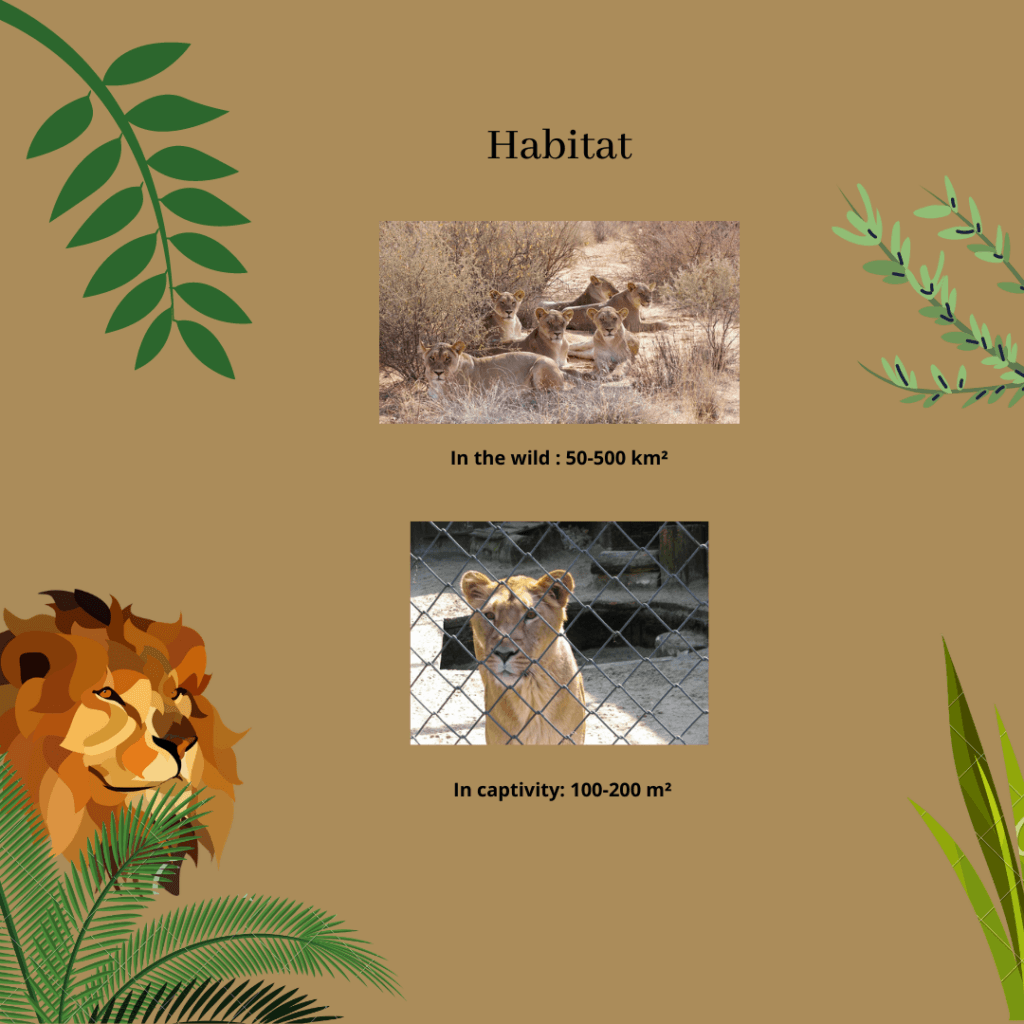 New Strategies for sustainable wildlife management
In line with the announcement by Environment Minister Creecy, both breeding farms and hunting providers are now to be scrutinised more closely in order to prevent abuse and exploitation of the lion. This is explicitly not about a complete ban on lion hunting – this should still be possible and become part of the population management of lions living in the wild. Rather, it is about stopping lion abuse. However, the approval of breeding stations where tourists are allowed to cuddle with lions will definitely not be allowed in the future. The commercial trade in bones and other body parts of lions and other wild animals is also to be further regulated. The complexity of the issue is to be taken into account, because a simple ban is not enough here – experience shows that bans on legal trade often lead to an increase in prices and thus to a rapid increase in illegal trade, making regulation or compliance with minimum standards for the protection of wildlife even more difficult to implement.
With her announcements, Environment Minister Creecy follows the recommendations of the advisory commission set up in October 2019, consisting of 28 representatives from science, administration, governmental and non-governmental institutions in the field of animal and species protection, sustainable development and tourism. Representatives of the hunting industry and breeding farms were also present. Since 2005, South African and international animal welfare organisations, including the Drakenstein Lion Park, had been calling for the dark machinations of the South African lion breeding and hunting industry to be stopped. The Advisory Commission was finally established in 2019 to assess the scale of the problem and formulate recommendations for new policies and legislation not only for lion breeding and hunting but also for other wildlife species affected by similar exploitation such as the elephant, leopard and rhino.
The Recommendations of the Advisory Commission include in particular:
Developing a common vision for the sector and improving policy and legislative coherence.

This includes a revision of legislation and directives at national, regional and local levels, as well as increased cooperation between different ministries (environment, agriculture/rural development and tourism).

Developing a better balance between economic, social, cultural and natural needs, as well as strategies for environmentally sustainable rural development.

Transforming the ownership and management of commercial wildlife management, especially in the areas of ecotourism and authentic hunting

Re-evaluating the role of state and private protected areas in sustainable wildlife conservation.

Strengthening of cooperation as well as agreements with other African countries as well as countries importing wildlife products to allow uniform regulations and prevent loopholes in legislations. 
The Commission's recommendations, therefore, include not only the above-mentioned bans, but also a broader strategy to transform the sector.
Creecy's announcement gives hope – and is a triumph for all the organisations that have been working for lion conservation for years – including our long-time project partner Paul Hart, founder of Drakenstein Lion Park, who has been campaigning for a ban on canned hunting since the 1990s.
What can you do to prevent profit-oriented lion breeding in South Africa?
Be aware that wherever direct physical contact with wild animals is offered on your holiday, it is not in the animals' best interests. Neither petting lion cubs nor walks and photo shoots with lions are species-appropriate!
Wild animals are wild animals and should remain so!
Your Contribution:
Decide against visiting a park that offers lion petting

Do your research before visiting a park and check the reviews of other visitors.

Decide against volunteering at a facility where your job involves raising lion cubs!

Watch what you eat and what souvenirs you buy! If they contain wildlife products double check what exactly you are buying. You may end up contributing to poaching or commercial exploitation of animals (e.g. jewellery, skins)

Stay away from traditional medicine or potency products that contain wildlife products or whose ingredients are "secret".

Do not visit a circus or zoo that keeps lions in a confined space!

Do not feed wild animals!

Support our current fundraising appeal for Drakenstein Lion Park near Cape Town. Be #löwestark! Get involved! 
Make a donation for lion conservation in South Africa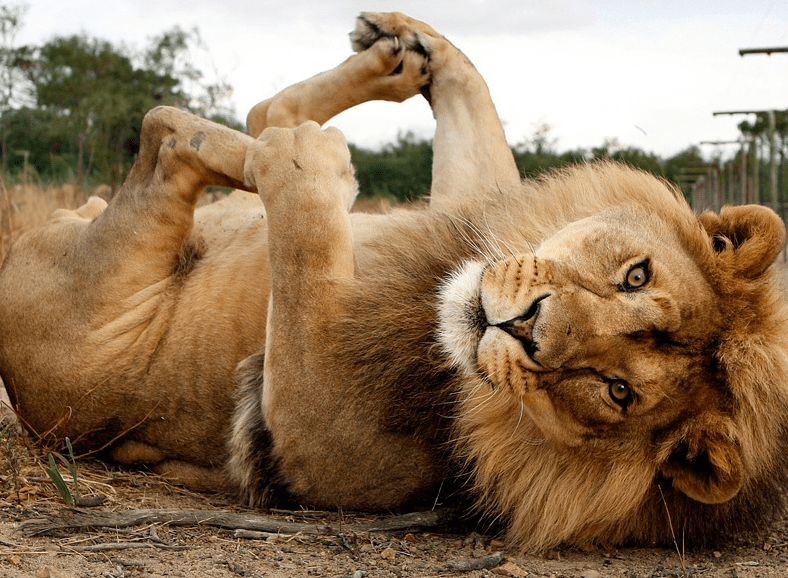 The lions at Drakenstein Lion Park originally come from  breeding farms from where they were sold to circuses or private individuals around th world. Here they fell into distress because they were abused and/or not kept in a species-appropriate way. In cooperation with various animal welfare organisations, they were freed by the Drakenstein Lion Park and find a safe and secure home in the park. Since years, the founder, Paul Hart, has been actively campaigning against canned hunting and the banning of breeding stations designed purely for profit.
The main source of funding of the Drakenstein Lion Park are the entrance fees of local and international visitors. Because of the Covid-19 pandemic and related travel restrictions  this income has been depleted. Our organisation live&learn would like to assist the Park to survive the pandemic by collecting funds to feed 3 lions for one year! Become a part of our campaign by making a donation our by spreading the word!
Where can you read more about the topic of lion conservation?
The Vicious Cycle
A comprehensive report by Four Paws Africa – an animal welfare organisation that has been actively campaigning for 15 years to end lion breeding for profit in South Africa. On their website you can find the report with more information about the lion breeding cycle in South Africa and its consequences.
Read Report
Blood Lions
An excellent documentary on the South African lion industry. The award winning documentary made in 2015 is the flagship of a powerful campaign for the ban of commercial lion breeding and canned hunting.
Watch the film
Report of Advisory Committee 
The report compiled by the Advisory Committee appointed by Barbara Creecy, South African Minister for Environment, Forestry and Fisheries gives particularly interested readers a more detailed insight into the matter.
Read Report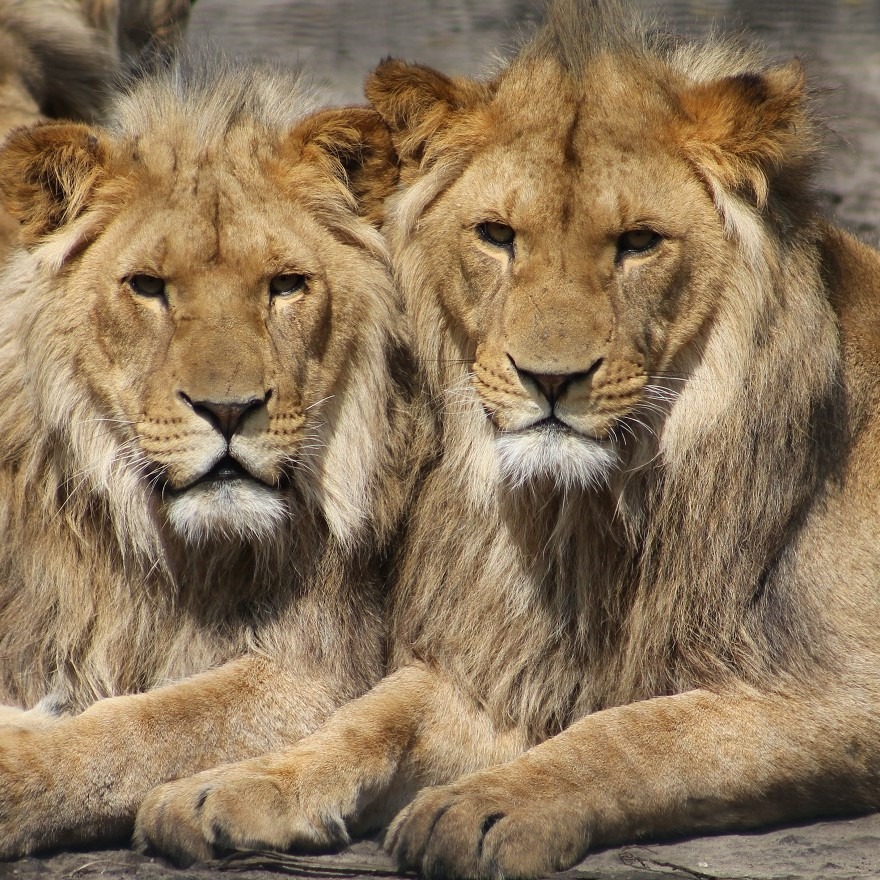 Would you like to volunteer and assist Lion Conservation  in South Africa?  
Learn more!
Contact us for more information and a personal consultation!
Conact us now!